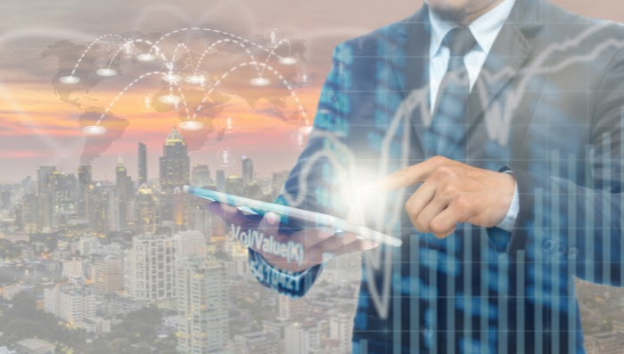 To survive in today's highly competitive business environment, you need to increase efficiency and agility, particularly if your business goals include driving growth, introducing new products, or becoming a global business. This means recognizing the changing business environment that is in the midst of a digital revolution.
The digital age has not only brought new technologies that have reshaped the way we do business, but it has also introduced new risks and challenges. But despite the disruption, it has become necessary to embrace change and digital transformation to keep up with the evolving business landscape and meet the demands of the market.
The future of finance combines the emotional intelligence of experienced financial professionals with the right technologies. Integrating the right software and tools into business processes promotes informed decision-making, increases efficiency, and boosts productivity.
Unfortunately, advanced technologies are expensive, and not all companies, particularly startups, have the money to afford them. Outsourcing is the solution that allows businesses to benefit from advanced finance and accounting software and tools. In this article, we will discuss the future of the finance world and why it involves outsourcing to a Finance as a Service provider. We will also talk about the technologies that are reshaping the finance world.
Why Outsourcing is the Future of Finance and Accounting
There is more demand for CFOs and accounting departments to be more strategic and innovative. It is no longer necessary for senior executives to spend their valuable time on tedious, repetitive work, particularly since there are now technologies that eliminate the need to perform financial activities manually. Traditional finance and accounting processes are also increasingly becoming obsolete. Therefore, finance leaders that continue to employ slow, outdated systems that are clunky and prone to human error would be placing their organization at risk.
With their reputations riding on their ability to plan and implement the strategies that will drive the company towards success, CFOs and financial executives know their time should be focused on high-value work. They should be driving innovation and preparing for the future. They can no longer afford to be bogged down by financial reporting and other activities that take them away from client relations, strategy implementation, business intelligence, wealth management, and other activities that drive value.
The future of finance and accounting embraces outsourcing because it is a solution that helps reduce operating costs while gaining the support of top finance talent, along with the experience of skilled accounting professionals. You also benefit from their advanced digital finance tools.
Outsourcing your accounting to a Finance as a Service provider doesn't mean losing control of your department. When done right, outsourcing means gaining a strategic partner that supports your existing finance team and fills the gap in your operations. You not only benefit from their team's skills and competencies but also from their advanced technologies that likely operate in the cloud. The result is increased flexibility and improved business scalability.
The Technologies Changing the Shape of the Finance World
Artificial intelligence (AI) and machine learning (ML), robotic process automation (RPA), advanced data analytics, and cloud-based infrastructures are some of the technologies that are reshaping finance. Embracing these technologies means more than just adopting advanced solutions that will keep you relevant, but recognizing the future of accounting and finance.
The applications of AI and ML in finance continue to grow as the technology evolves. As a subset of data science, artificial intelligence and machine learning use data analysis processes, algorithms, and pattern recognition to automate and interpret financial activities. Today, the technology is already being used in fraud detection, improving process automation in areas like tax accounting, reconciliations, and accounts payable. The technology also helps improve financial planning and analysis (FP&A), enhance risk management, and achieve regulatory compliance.
Before RPA, transactional process activities meant long days of manual reporting and data entry. It involved multiple steps that required accounting staff to perform repetitive tasks, which were not only burdensome but prone to error and duplication of work. Today, RPA can be applied to various accounting activities across multiple accounting systems. By dramatically cutting down the time and energy it takes to record accounting activities, the workforce has more time to focus on strategic roles.
Data and business analytics provide the valuable insight that defines and refines growth strategies. Improving your analytic capabilities leads to sound financial planning, forecasting, and the ability to recognize opportunities. Financial analytics help a company understand its business performance status and financial health, allowing it to plan better and manage existing investments. Access to historical data and the ability to measure and analyze it helps financial leadership to identify strengths and weaknesses and recognize areas of wastage. In financial services, data and analytics have guided better investment decisions and have helped them face regulatory challenges and increasing competition.
While cloud computing is no longer considered a new concept, many traditional business owners still find it disruptive and risky. However, cloud adoption is a crucial aspect of digital transformation. Unlike traditional I.T. infrastructure, the cloud boosts speed and agility, helps manage costs, promotes innovation, and enables application resilience.
Conclusion
The future of finance and accounting is not one that has eliminated the need for a human workforce, replacing each finance function with artificially intelligent tools and extreme automation. Rather, the role of the finance professional changes and demands new competency and learning requirements.
The future of finance and accounting involves minimizing human interference in tasks that can be automated. Senior executives and human resources must lead the change and encourage employees to develop the competencies and mindset that will prepare them for finance transformation and the digital world. By leveraging artificial intelligence, machine learning, robotic process automation, analytics, and other emerging technologies, businesses can make better decisions and scale faster.
However, adopting these technologies doesn't have to come at a high cost. Outsourcing to a Finance as a Service partner is a strategic solution to gain the technical skills and experience of a professional accounting team without spending money on the expensive maintenance of the software and professional finance staff.