Automation is one of the most transformative forms of technology in existence. From assembly lines to high-level financial and accounting work, the ability of digital processes to replace human labor offers a number of advantages. The lack of fatigue and absolutely consistent performance of well-written code offers a substantial advantage over humans performing time- and labor-intensive tasks, and that's just one of the many benefits.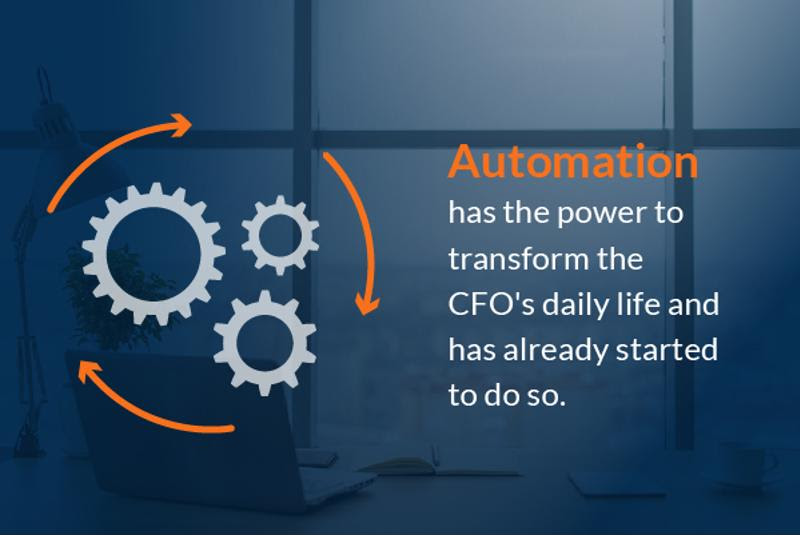 How will automation affect CFOs' roles in the future?
Automation has already changed the way businesses in general—and CFOs in particular—handle day-to-day and long-term processes and workflows. Formulas in spreadsheet programs are a basic example. They automate calculations and, assuming the parameters set by users are accurate, consistently provide the necessary results. More robust and wide-reaching solutions are already in place at leading businesses with forward-thinking CFOs and leadership structures that are ready to adapt to change.
As CFO Innovation points out, one of the biggest challenges facing CFOs as automation continues to alter the modern business landscape is the need for adaptability. The ways in which automated tools can change the current landscape around finance and accounting are nearly endless. Beyond the many forms of automated analysis, calculation, and reporting that currently exist are transformative ideas that are only now being initially developed or haven't yet been conceived. The ability to find new, beneficial tools and put them to work, whether in six months or 15 years, is a vital discipline for CFOs to cultivate. A failure to recognize the power of automation and therefore avoid change will ultimately reduce performance in comparison with competitors who take a more progressive approach.
Digitalist says another major consideration for CFOs is distinguishing between areas where human work is needed and where automation can take over. This ties into the need for adaptability but moves further into the territory of staff management and leadership. CFOs will have to develop and maintain a strong understanding of the capabilities of current automated tools and those under consideration, then ensure staff have the skills that are not yet replicated by machines. This can involve everything from encouraging current employees to develop specific skills to working with human resources staff to find new hires to fill critical roles.
CFOs themselves also must have the capacity to accept when it's time for certain executive-level tasks they personally handled in the past to move to an automated process. This can be more difficult than reassigning the work of staff, both due to the critical nature of these tasks and the personal involvement of the CFO. Although there is a potential roadblock to overcome in this instance, the benefits of using an automated process that is more accurate on a much more consistent basis than any human could ever hope to be is clear.
Accounting outsourcing is a viable alternative to automation in many respects, although its most transformative aspects are still some time away. Outsourced accounting also offers skilled, experienced accounting and finance professionals to handle the work automation may never be able to take over. To learn more about our effective solutions, get in touch with Consero today.